Well today was the last day I will ever see Okazaki. Classes actually ended yesterday, but I had to pick up a few (tons of) things at school in preperation to shift home bases. It was strange, thinking that this is the last time I'll ever ride the Mietetsu line, the last trip to Higashi-Okazaki Eki. The last glimpse inside the school there. It all seemed unreal. Yet it is, so I'd better get used to it fast!
Eiko also had to go down there, so we met in her home town, Toyohashi, for lunch. We had a wonderous 3 course French meal. I had Duck Confit and it was gloriously tasty. A dash of Fois Gras among other tasty treats lead off the meal, and two glasses of Australian Red Wine to wash it all down with. Dessert was a wonderful concoction of layered crepes. Something I had never even heard of before. The meal was really good, but... yes there is a but. Alas I have become rather used to Japanese cuisine. And there is nothing quite like Fois Gras and Duck Confit here. My poor tummy just wasn't ready for such a blast of tasty grease. I was actually feeling kida ill for a while. Dang. And it was so good too.
On my way to Toyohashi I had a bit of an adventure. One stop before my stop the train grinds to a halt. Express trains don't stop at this station, yet here we are, stopped! Everybody left the train, so I figured it would behoove me to follow their lead. The other passangers understanding the announcements and all. Turns out there was a signal problem, so no trains could go that last kilometer or so into town. Argh! We all had to stroll a few blocks away to the JR Station, and wait there for another train. Which took 20 minutes to arrive. Well, better late than never as they say.
Anyway, here for you today I have a glimpse into my students. The mystical world of the English Teacher!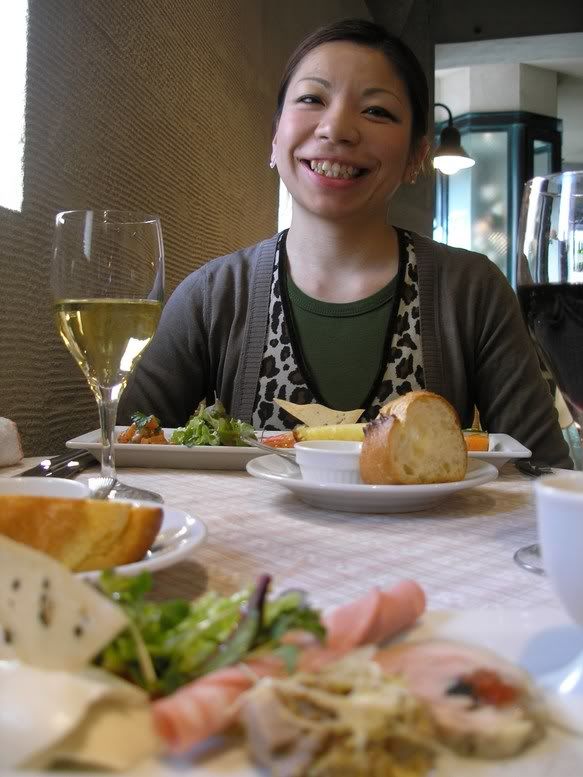 Eiko at lunch. Hmm yummy French Food.