In a recent class my students had to name who they thought were the 5 most famous Japanese people in the world. Their choices ran a pretty wide range, but most lists included master animator Hayao Miyazaki. Miyazaki is perhaps best known for his Oscar winner "Spirited Away" but every single one of his films is an instant classic. He is gaining quite a following outside Japan, and inside Japan he is practically a patron saint of animation! Miyazaki is in fact so popular that he and his Studio Ghibli cohorts set up a special museum south of Tokyo.
The Ghibli musuem is amazingly different from any other childrens commercial enterprise I have ever encountered. You can only buy tickets in advance, and all tickets are for a set arrival time. Visitors are spaced throughout the day, so that everybody has an uncrowded and pleasent experience. The tickets are a mere 1000 yen, (less than 10 dollars). With your admission you get a keepsake piece of actual film (I got a bit of "Totoro" and the chance to see one of 6 special short films that show only at the musuem.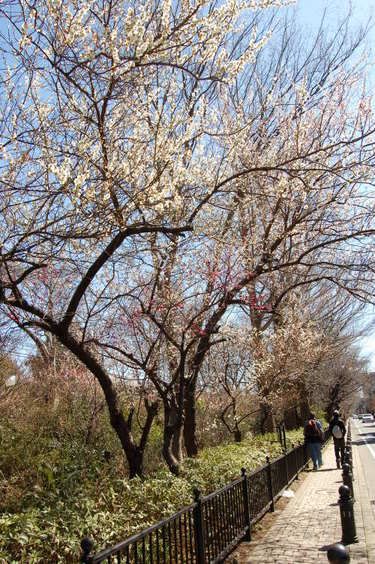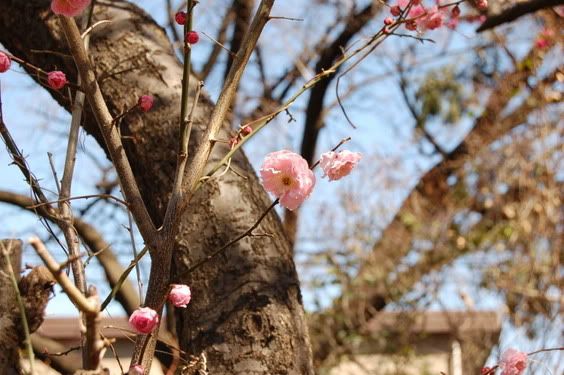 Unlike Kanazawa, it is warm and pleasent near the Ghibli Museum
The museum itself is a maze that encourages and rewards exploration. Like Miyazaki's films, the place is not just for kids, but for the child in all of us. Cliche, yes, but also wonderfully accurate. Wandering around the rooms brought about a glorious sense of childhood wonder. There is an excellent visual primer on how animation works on the main floor that just blew me away. They had a series of models in different poses, that when spun and lit with a strobe appeared to be moving, some in the opposite direction!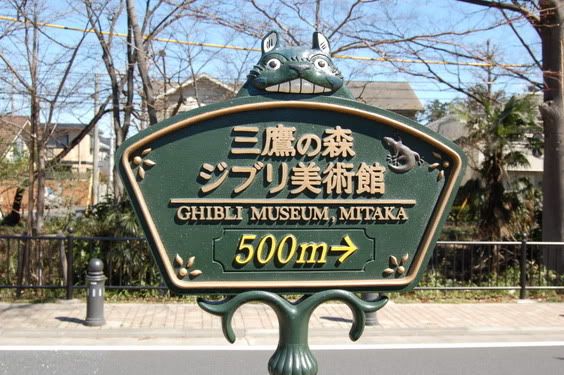 Totoro points the way
There is also a look at the actual animation process, with the painted backgrounds and the individual cells that are used for movement. There was also concept art and photo refrence material for the newest Ghibli production, "Howl's Moving Castle." There was even a mini version of the Cat Bus (from Totoro) for kids to play in. On the roof is a spectacular life-sized version of the flying robots from "Castle in the Sky."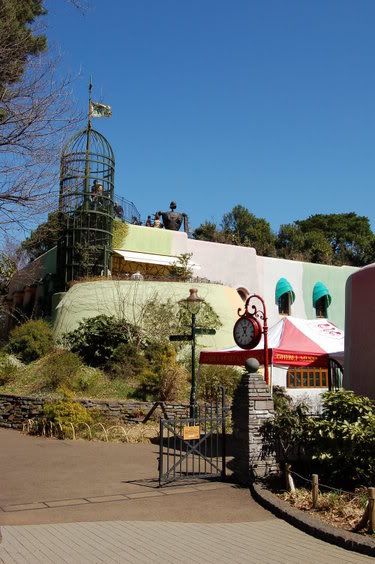 The museum.
There is so much more, stained glass windows from each movie, and of course the short film. We saw one where every sound effect, from cards to rivers to monsters to wind to rain to bugs...all of it made with the human voice. It was fascinating, and of course tons of fun to watch. We were actually rather bummed out that we would be unable to see the other 5 films, I imagine they are all great.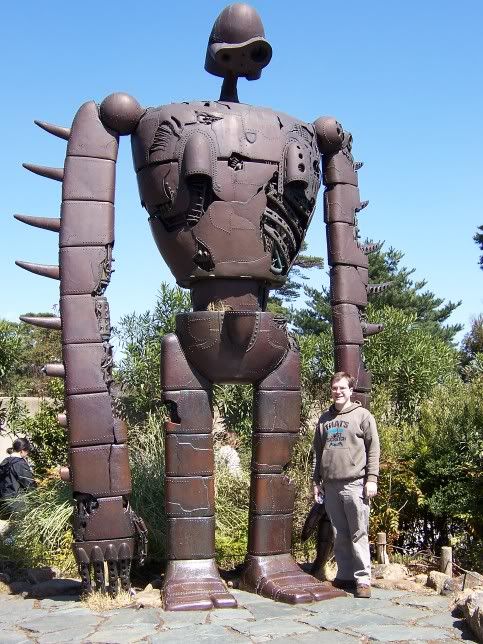 Hi! Me and the Laputa Robot
The Ghibli Museum was hands down the most fun we had in Tokyo. All three of us had a blast. It really captured the innocence and wonder that is childhood, the same innocence and wonder that come through so well in Miyazaki's films.