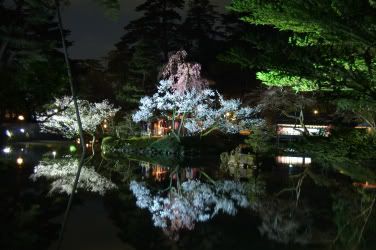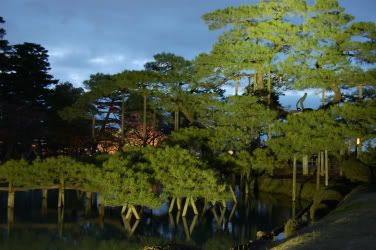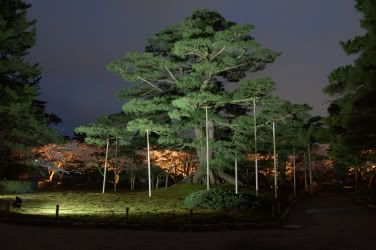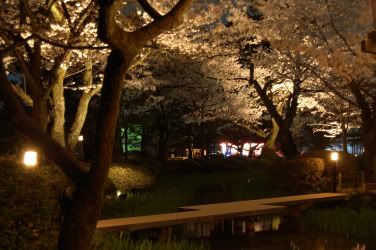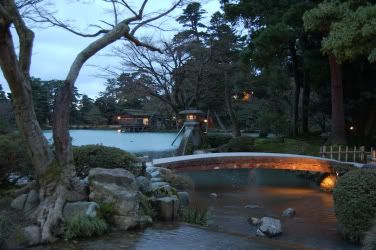 In celebration of spring Kenrokuen was lit up at night. Despite the fact that I had been through the garden twice in the past week or so, I just had to go see what things looked like in the evening. The fact that garden admission was free all week was certainly a bonus. So Friday evening I had some time free between classes and I grabbed my camera and tripod and headed on up.
I was certainly impressed, the beautiful flowers and atmospheric lighting combined really well. Of course not everywhere was very brilliantly lit. It was a pretty dark night too, so I got lost more than once!
Also, I was far from the only one with a camera and tripod. Indeed it sometimes seemed that those without digital cameras were in the minority. There were some pretty impressive photographic setups walking around the garden. I felt distinctly outclassed. Of course there were plenty of people making due with their camera phones.
I recently ordered a pair of photography books from Amazon, and they arrived on Thursday, a week early. This made me gloriously happy, and I am also pleased to report that the books are great. Especially the one on digital photography, I have modified many of my DSLR shooting habits already. Despite this advice, and the fact that I filled a 1GB memory card at Kenrokuen, many of the photos I took were not up to snuff. I guess thats the good thing about taking 100 photos in one evening. You'll be able to find 5 that are fit to be seen in public! I don't feel too badly about that, as we all know that night and low light photography is HARD. Well practice makes perfect, and lord knows I have been practicing lots.
After work we all headed out for some Hell Super Spicy Habanero Okonomiyaki. It was great! It had been so long since the subtle flavors of the Habanero pepper caressed my palate. Hmm that sound wrong. Ah yes.. It had been so long since the violently spicy flavors of the Habanero pepper assaulted my palate. Yes thats more like it! Still, joking aside, it was great, pretty spicy but not too bad. Of course the rest of the table was in pain, but I liked it quite a bit.