With eager anticipation to meet up with my very first visitor, I started off early Saturday morning. With missing the right bus, and getting on another that was only half right (it did go to the station, but took its sweet time getting there) I missed the 7:30 train to Nagoya by about 5 minutes. Leaving of course a whole hour to kill around the station. I walked around, checked out a few temples nearby. There was a truck driving around with a loudspeaker saying something (loudly) in Japanese. Remember, this is BEFORE 8 in the morning on Saturday. This would not stand in America. The driver would be dead before 7:15!
Once safely ensconced in the direct Shirasagi #4 to Nagoya, I curled up with Bill Bryson's book Down Under. I must say he is one hilarious travel writer. Good stuff indeed, he made the almost 3 hour train ride quite bearable. Of course I can hardly complain about that little train ride, when poor Matt had left for the Airport about the same time as I had gotten home and gone to bed the night before! Yikes.
I had a pleasent Italian lunch with my old co-worker Eiko. (I learned that I have lost my proper fork certifications, and am not qualified to use that utensel anymore. I couldn't pick up a slice of proscutto with a fork. I wished I could use chopsticks. I think I need to leave Japan. Now.)
Then it was time to head to Central Japan International Airport! The excitement was too much for me, so I fell asleep on the train for about 20 minutes! (I think that was the glass of red wine talking. Red wine at lunch, even a single glass, knocks me out.)
Matt was pretty happy to see me, had this crazy "I'm in Japan!!!!" grin on his face. I am pretty familiar with that grin myself. We went down to Sakae and found a hotel, and I showed him around the TV tower and Oasis 21. We then met up with Jared and Johanna and went to a pretty good izakaya. I had Mochi Pizza, which was a bit strange but quite good. Matt tried Yakisoba for the first time. A good time was had by all, and we parted ways before the last train.
The next day was a whirlwind tour of Nagoya. The Castle, Osu, up to the top of the TV tower, everywhere that it took me four months to see! I finally bought my camera that I've been lusting after for 6 months. (20k yen cheaper than I'd ever seen it, comparable to the Amazon price I was going to use, and came with a free tripod!)
And then it was time for Dinner, and what a dinner it was. But dinner will have to wait for another entry...
Kanazawa station.
Matt in front of my favorite photographic subject.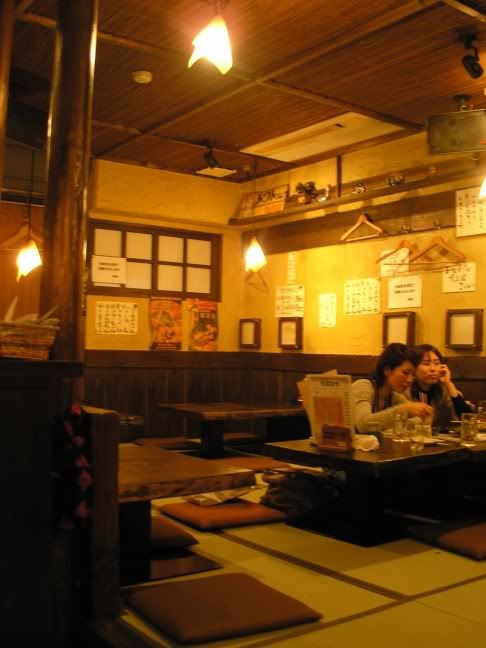 Snazzy izakaya.
Matt at the castle.
An angry deer at Nagoya Castle.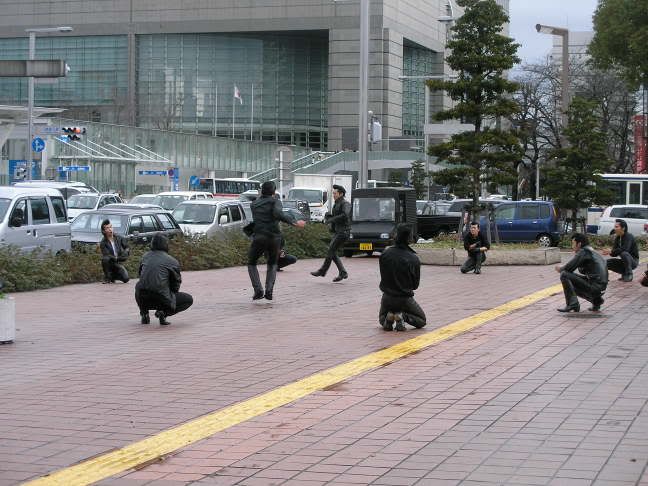 proto-elvis dance off. Japan is weird!