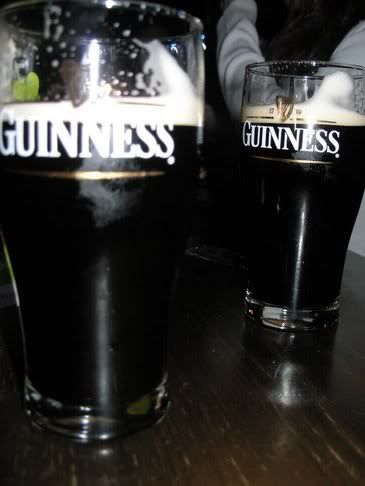 Now back to our story...
Last Thursday Matt headed south to Kyoto for a tour of the Kansai area. He came back up to Kanazawa late Friday afternoon, just in time for some St Patricks Day fun. Being that both Paul and Asuka had to work the next day, and Matt and I had to get up early to catch the Tokyo Bound train, Guinness fueled revelry was kept to a bare minimum. This did not prevent the students from crowning me 'King' of St. Patricks Day. I think it must have been the sexy Irish brogue I was sporting at the time. (I had been practicing to Michael Collins the night before... heh. Please stop looking at me like that! Perfectly normal... perfectly normal...)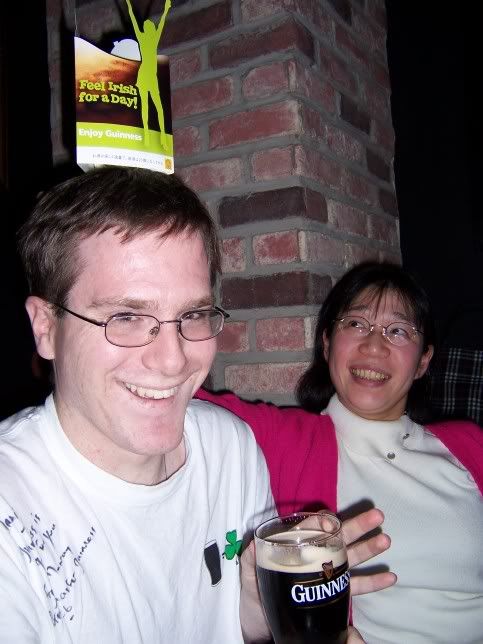 Anyway. So after a nice dinner of Fish and Chips and Guinness (with a few pinches for those not wearing green, sorry Matt but you had it coming), we headed to... Karaoke! As if you couldn't see that one coming. This was our largest outing of the week, and was quite rambunctious. I gave the chorus of Orange Range's Locomotion a good try, and Matt and Paul's "You've Lost that Lovin' Feelin" brought down the house. Unfortunately the best singer there, Asuka, only sang a few songs. While I of course sang tons of off key monstrosities.
So up and away the next morning, on a regular express headed far to the north before turning south for a quick Shinkansen dash into Tokyo Station. A little over four hours all total, and certainly more comfortable than an airliner. After all, what airliner has a mini-convenience store tucked away inside? Or things like leg room? *gasp* Still it was a long haul, and we were glad to get out and about and mosey around the Number One Tourist Destination of Tokyo.. The Imperial Palace. We stopped quickly to get our "been there" pictures (which didn't turn out, sigh) and then headed indoors away from the quickening drizzle.
Akibahara was the next stop, for a look at the largest electronics area in Japan. It was dark and wet, so we didn't spend a lot of time there, but I did manage to get a soft case for my new Nikon at the famously large Yodobashi Camera. Thence we pushed on to Shibuya to meet up with Zach. We were in charge of finding the accomodations for the night, Capsule World, but the map Zach had sent me printed off rather small, and was in Japanese.
This faulty and partial information overloaded my GPS (Grant Positioning System) and we wandered for quite some time. This failure was such a shock to the System that it was malfunctioning all weekend. My sense of direction is usually flawless, but Tokyo rendered me useless. Once we met up with Zach and headed back out into the trackless neon void we were in the process of walking right past Capsule World (again) when I caught a glimpse of the sign and we pulled into our cozy little safe harbor.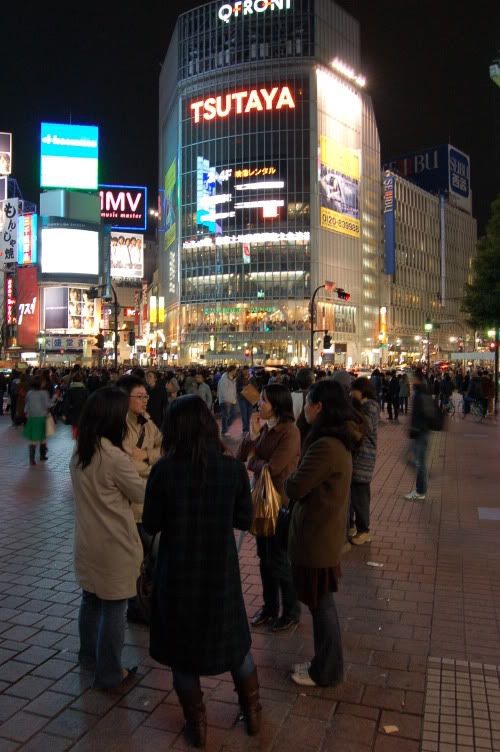 Shibuya at night. This is the location of what is said to be the world's busiest crosswalk. I can vouch that it is indeed VERY busy.
Capsule hotels are great. I mean we've all heard of them, but the sterotype obscures the comfort and value of these places. I mean yes of course they are quite small, but ponder the fact that we paid 3700 yen for a place to sleep right in the middle of some of the most prime terrain in Tokyo. It came with an onsen, sauna, lockers for belongings, Radio, TV and more. This is the only way to go, well I suppose I should say that it is the only way to go as long as you are a guy. Most capsule hotels don't allow women.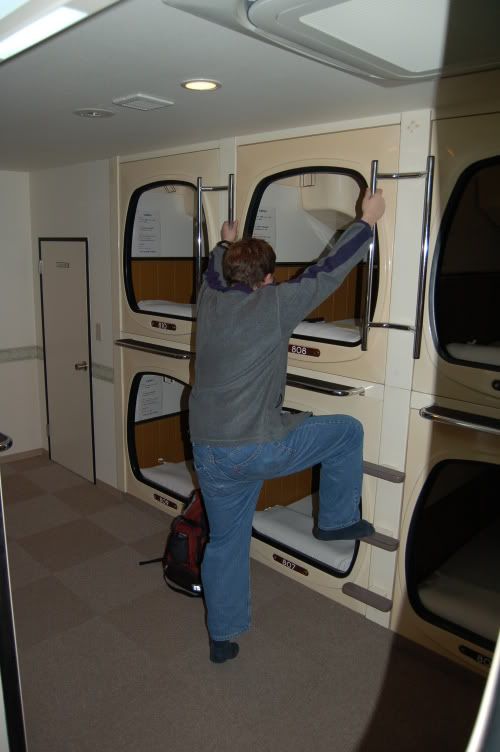 Yo!
So we dropped our things and headed out to find a club. To make a long story short, we found one. I danced. It was ugly. We went back to the hotel and took a bath.
We were fully prepped for our second day in Tokyo... St Patricks Day Parade and Parasites!