Well last week was a bit of a whirlwind. After work on Monday Matt and I headed out for some Okonomiyaki, which is one of my favorite foods, period. There is a great okonomiyaki place right behind the school, but there is no english menu, so I got to try out my mad japanese reading skills. We ordered a Kimchee okonomiayki and a tofu one. They bring the ingredients, we mix and cook. Soo tasty, despite a few mistakes on our part.
Tuesday dawned on a world under a few inches of snow. *sigh* so much for spring! Matt split for Kenroku-en again, to see how the character of the garden changed under snow. I of course worked. Tuesday night we went out for Korean Yaki-niku (grilled meat), another cook it yourself job. Between all of this cooking it yourself and the Japanese penchent for serving food raw, I wonder if Japanese cooks can actually *cook* anything! That aside the food was delicious, even when Paul lobbed charcoal chunks that had once been chicken in my direction. We had a few students with us, and had a great time. Plus the waitress was rather good looking, which is always a bonus. We even had a discount for our course meal, so all in all a good night.
Next up was Karaoke, we had intended to stay for an hour, but as I recall that spread to at least 2 hours. Maybe a bit more. Matt took to karaoke like a fish to water, and we all had a smashing good time. Karaoke is really the worlds great equalizer. Well unless you are in that percentage of people who can actually sing well, then like cream you rise to the top of the pile. Interestingly enough the people who sing the best sing the least. Me, I sing a ton, so I guess that means I sound like a tone-deaf trout. Whatever a tone-deaf trout sounds like... But that doesn't matter, what matters is we set the pattern for the rest of the trip. Matt had two more trips to Shidax in store, thats more Karaoke in one week than I'd had in two months! Wow.
Wednesday was spent regrouping and hanging out, and of course I went to work. The weather took a turn for the bluer, and it was actually a sorta warm day. The snow vanished like a Chicken burrito (chipotle style) from my plate, so Matt got a little taste of nice weather.
The next day, Thursday, he headed to Kyoto for adventures alone. Well not quite alone, he met up with somebody he knew down there (Yuko? I think that was her name) and she showed him around Kyoto a bit. He crashed in an Osaka capsule hotel, which was another taste of things to come, then came back to Kanazawa Friday afternoon. For St. Patricks Day...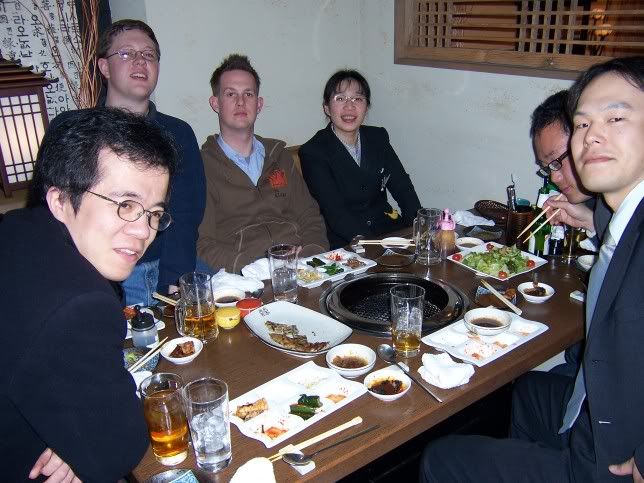 the group at Korean Yaki-niku. Matts pic. (but I think I took it...)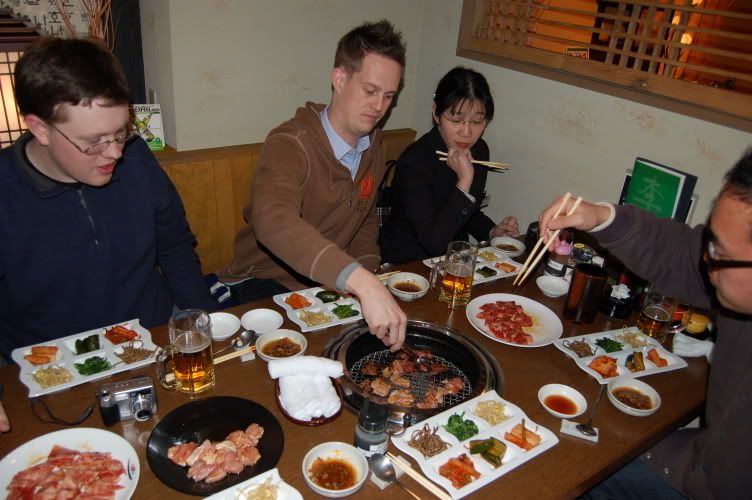 The server hard at work.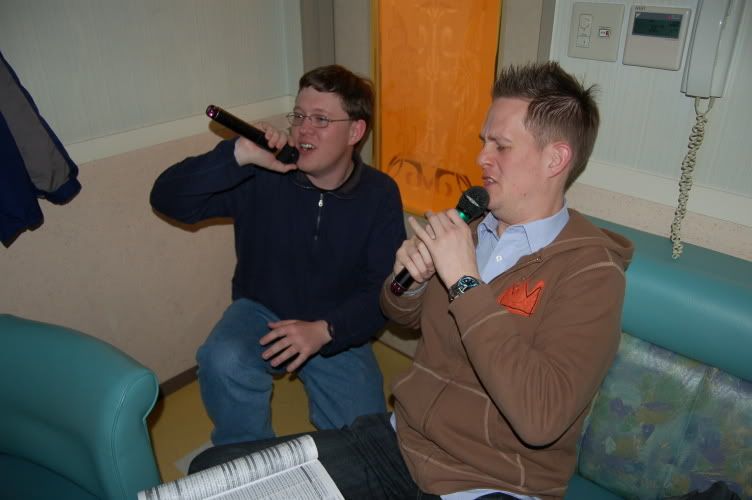 A duet. Maybe this is their rendition of "You Lost that Lovin Feelin?" They do a pretty good job of it really. I have video if anybody is interested!