Japanese castles are beautiful. Their soaring white walls and elegantly curved roofs stand in marked contrast to the large stone towers and blocky keeps of their European counterparts. While made of wood, it seems accidental fire and earthquakes were more deadly than enemy sieges, possibly because castle building really came of age in the Edo period, when peace was iron handedly maintained by the Tokugawa Shogunate. That said, there are remarkably few originals left, for two reasons. At the end of the Edo period, in the Meiji restoration the feudal system was abolished, and many of the smaller castles were outlawed and demolished. This is the fate that befell Okazaki and Ueda castles. However, many of the larger more important castles were designated landmarks and cultural treasures. These were preserved as works of art and beauty. Unfortunately for the castles, the Japanese picked a fight with their neighbors across the Pacific. Many major city castles perished in flames under the wings of B-29 Superfortresses. Castles like Nagoya Castle burned to the ground in 1945. Indeed inside the modern remake is a photo of the castle looking like an 8 story blowtorch. Merely saying it burned to the ground doesn't really do the image justice. It infernoed to the ground. Many of these missing castles, including Nagoya and Okazaki Castle have since been reconstructed in concrete. The outsides are built to the same plans as the originals, but inside there are elevators, 3-d film shows, and air conditioning. While you do lose some of the beauty and craftsmanship present in those original castles still left standing, the modern amenity's are very nice. Next time, some of the the original castles, including the oldest castle in Japan.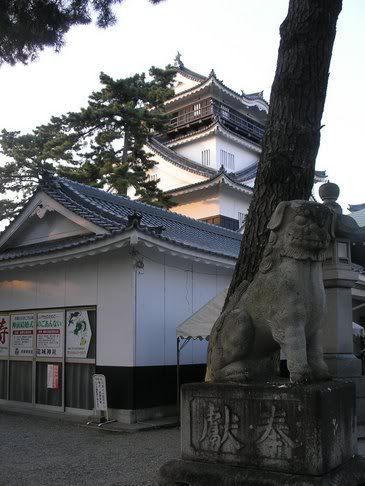 Okazaki Castle, birthplace of the deified Tokugawa, Tokugawa Ieyasu. So I have now been to Mr. Tokugawas birthplace AND his tomb. Kewlness.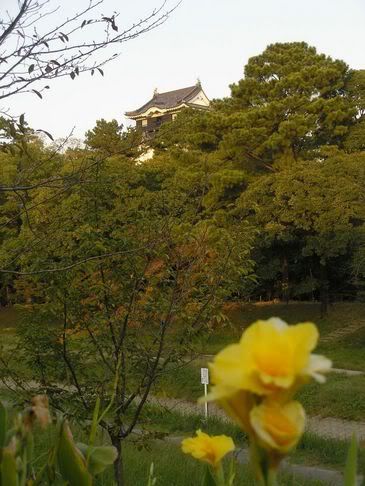 Another pic of Okazaki Castle, taken just the other day. So yes it is fall and yes those are pretty flowers.
Nagoya Castle. Once again, those are flowers that were present over the weekend, in Late October.
Nagoya Castle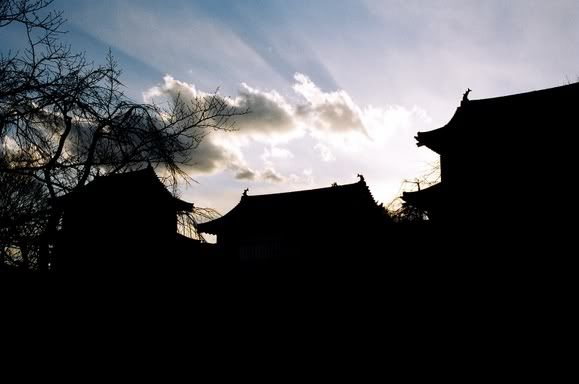 All thats left of Ueda Castle, a part of a gateway. The central keep (donjon) has not been reconstructed. This picture was taken last March.