After two days alone, Jared showed up in Osaka, the last stop of his Kansai tour. I was horribly dehydrated from too much time in the superhot saunas at Spa World, and was still nursing the headache from hell. Seriously, between the jackhammer in my skull, the trains going by the window, and the travesty that is the Japanese Pillow, I had hardly slept a wink. My mood was *not* chipper and joyous. Despite all that, I was still very glad to see Jared, at last someone to talk to! We met up with Atsushi, a student of his who is from Osaka.
The three of us just wandered around. Atsushi showed us around the city center a bit. We ate one of Osaka's more famous culinary exports, takoyaki. Takoyaki are little fried doughballs filled with boiled octopus. While I'm usually quite game at eating things. I have long avoided takoyaki because of my well known aversion to all things that have tenticles. Well I finally got over my deep seated neruosis and popped one in my mouth. It wasn't *that* bad, but I doubt I will go out of my way to eat more. We ordered two dishes though, regular takoyaki, and 'Russian Roulette Takoyaki." This one had the same outwardly identical 8 dough balls but here each of them has something different inside. You never know what it might be! Shrimp? Corn? Tuna? Chicken? A metric ton of wasabi? Yup, one of those unsuspecting looking little guys was going to be chock full of wasabi, enough to make you wish you were dead. Poor Jared got that one! I had the corn and shrimp ones.
After a bit of Ping Pong we headed out to Atsushi's parents house, as we had been invited to a traditional New Years Eve dinner. They were really nice people, but darn if some of the food wasn't really, really strange. I suppose I should probaby be used to it by now, but honestly looking at clumps of tiny fish that you would eat 10 or so at a time was enough to make my tummy go all wobbly. I still ate my fill of the slightly more conventional stuff. Chicken, Pork, Yams, Fish Cake, yummy! We then shared in some Soba, the one thing everybody in Japan eats on New Years, for luck they say. After that, we were off for a little western style celebration. No shrines for us.
While in Kyoto Jared had met a couple of college students here on break who were going to head to Osaka that day, so we met up with them at a huge bar. Like really huge. I'll admit my perception of space has been altered in the last several months, most Japanese drinking establishments fit just a dozen or so people. This one was big by American standards for sure. Darts, Pool tables, foozball, booths, tables and a dance floor. Sadly for the size, there really weren't that many people, but it was a nice place so we stuck around. And around. For some reason Jared and I didn't leave until 3:00 or so. Recall that I hadn't really slept the night before. I was whipped. Yet hungry. So we hit up a beef bowl spot, and had a long conversation with a Nova teacher and his girlfriend. We didn't part ways till after 4, at which time it was all about going back to the torture chamber at the hotel, and crashing out. Hard. Of course between the other guests and the trains, I was back awake around 9. *sigh*
Ok, now I know that UFO Catcher machines are popular here, but honestly, catch a live lobster? What would you do walking down the street with a lobster? Carry it in your purse? Weird!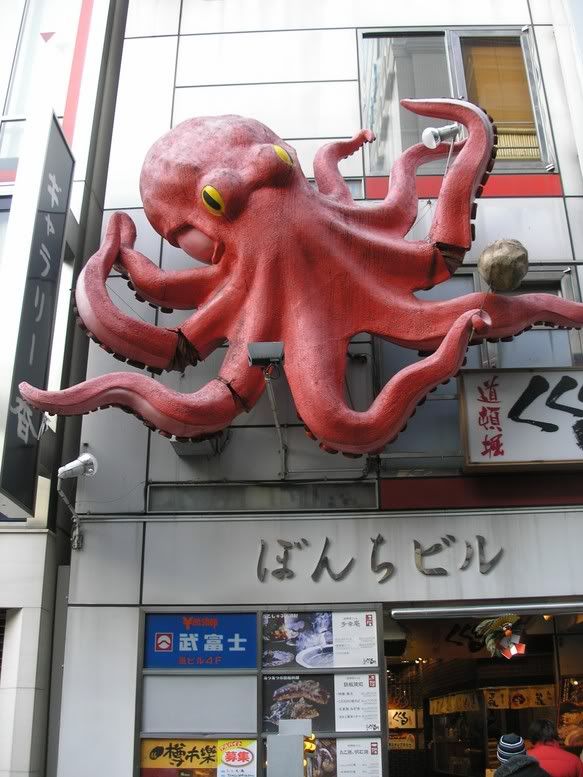 The outside of the Takoyaki place.
Downtown Osaka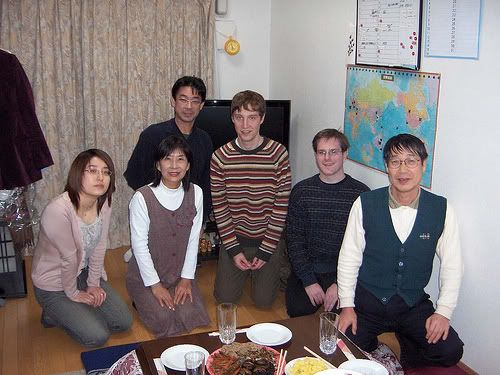 The dinner party.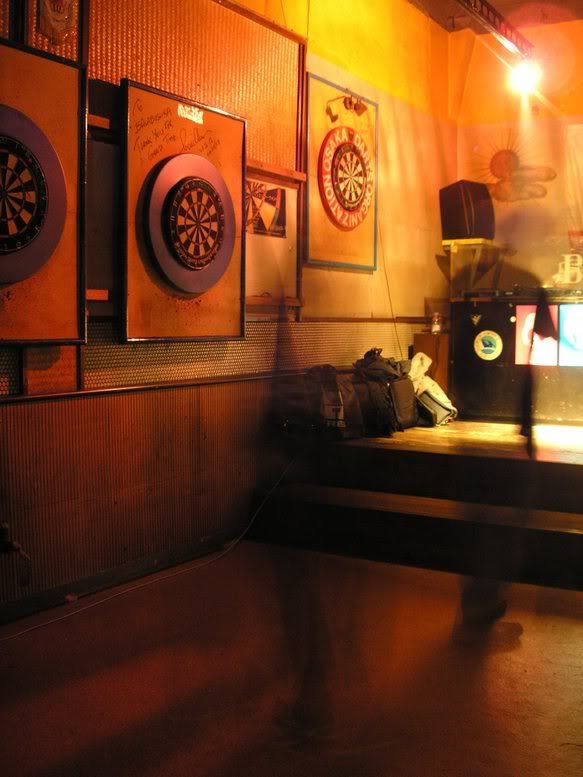 Jared, dancing the night away.
A Ramen stall at 4ish or so in the morning.