After a wonderous night of tasty food and good company, it was early to rise for a trip to Nara. While Kyoto gets all the love, and tourists, for being the old Capital of Japan, Nara was actually the first permanent capital, established in 710. I specify permanent because previous to Nara becoming the capital, according to Shinto belief, every time the emperor died a new capital had to be established. Even with the altering of that particular rule, Nara did not remain the capital for long. However it was capital long enough to get several temples and building worthy of becoming World Heritige sites.
One of those sites, and the main tourist attraction, is Todai-ji. This temple is the worlds largest wooden building, and in its present incarnation has stood since 1709. However this sixteenth century reconstruction is 30% smaller than the original. Yup, its huge, absolutely enourmous, yet it is almost one third smaller than the original structure built back in 743. You can see why this is a very impressive site, (and sight!) The Bronze Budda stuatue, Daibutsu, inside is (mostly) original. It has be recast and fixed a few times, as he lost his head in an earthquake once.
If Nara is famous for one thing other than the Daibutsu, it is the hoards of pushy deer. The sacred Nara deer have been around for centuries, but in modern times they are supreme mooches and beggers. They circle tourists like sharks, waiting for a momentary weekness to reveal tasty treats. Then they pounce, using wolf pack predatory tactics, going for the kill in seconds. In the aftermath, one can only feel sorry for the poor bundle of deer crackers. Never even saw what happend! Seriously, the deer are super cute, and if not 100% tame, they have certainly lost most of the fear of humans. They shill rather relentlessly for a handout, and for 105 yen per pack of deer crackers, most tourists are more than happy to feed the little guys.
Today I'm posting a few more than the usual 5 pictures, as Nara was very photogenic, and I went rather wild with the camera.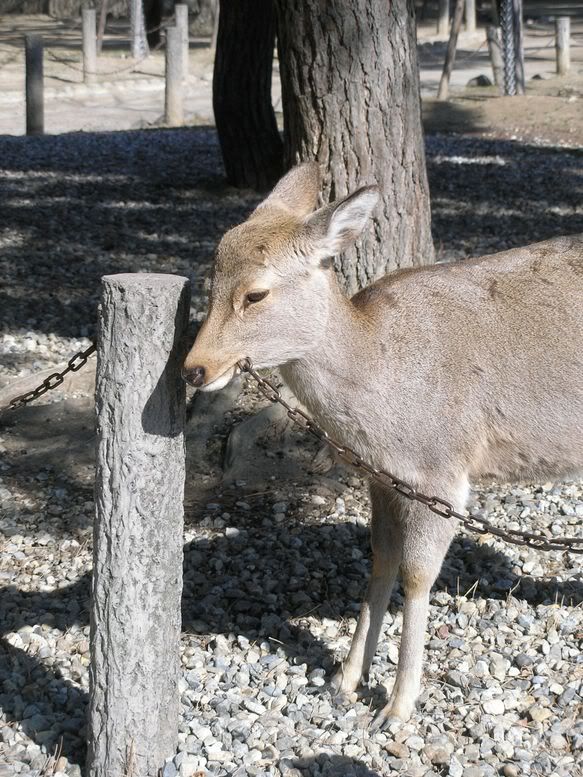 Aww isn't he cute? Rather hungry too.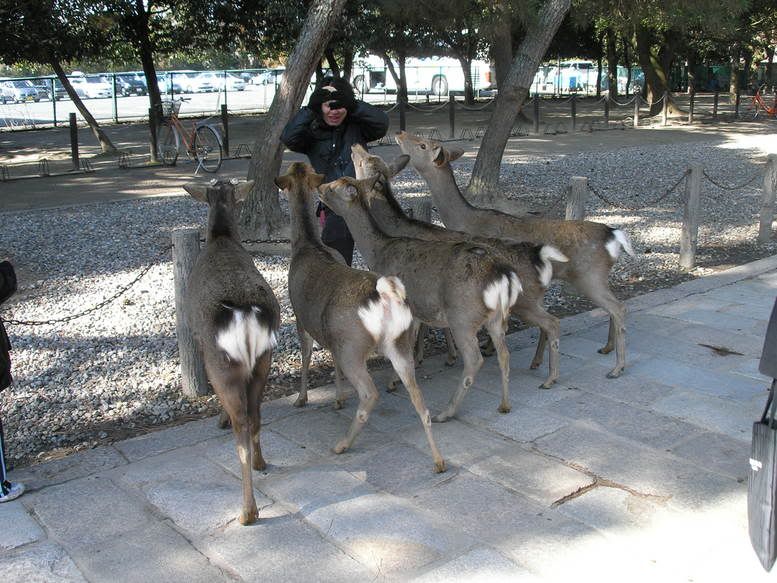 As are these guys. The peril of feeding the deer. They can smell weakness. Shortly after I took this picture, she threw down the crackers one way, and fled the other.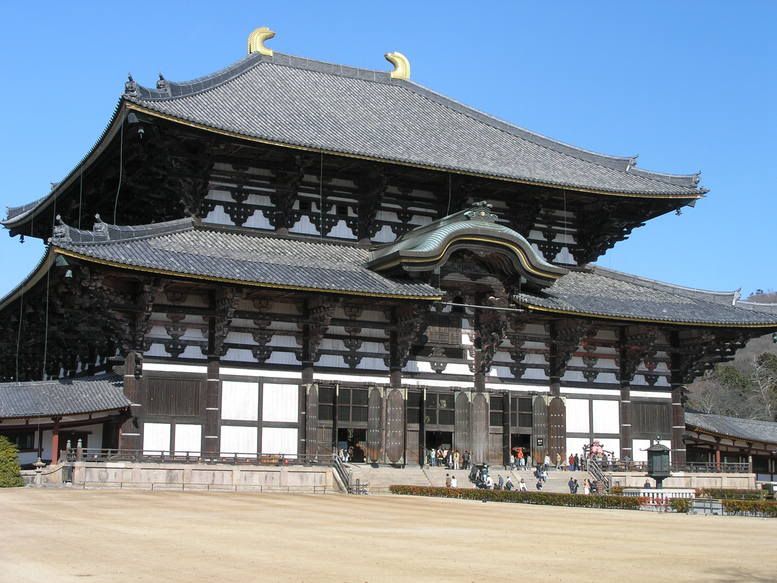 Todai-ji. Big huh?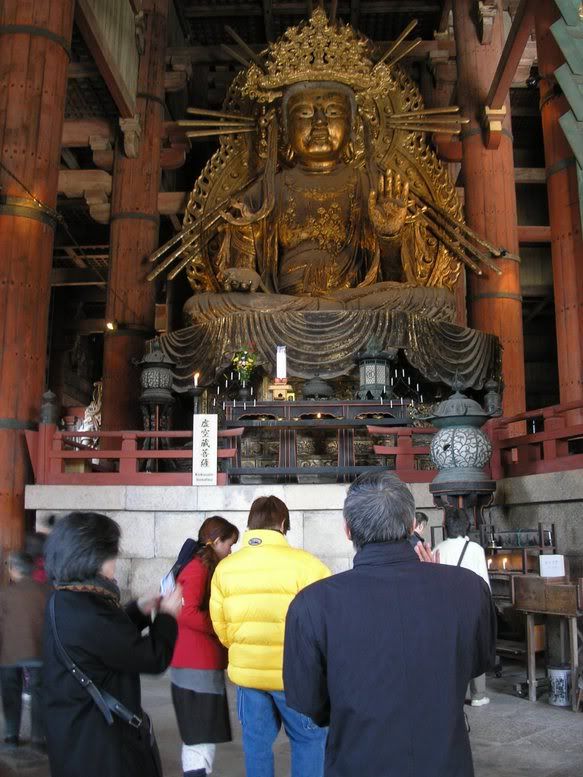 Mini Statue. Still pretty sizable.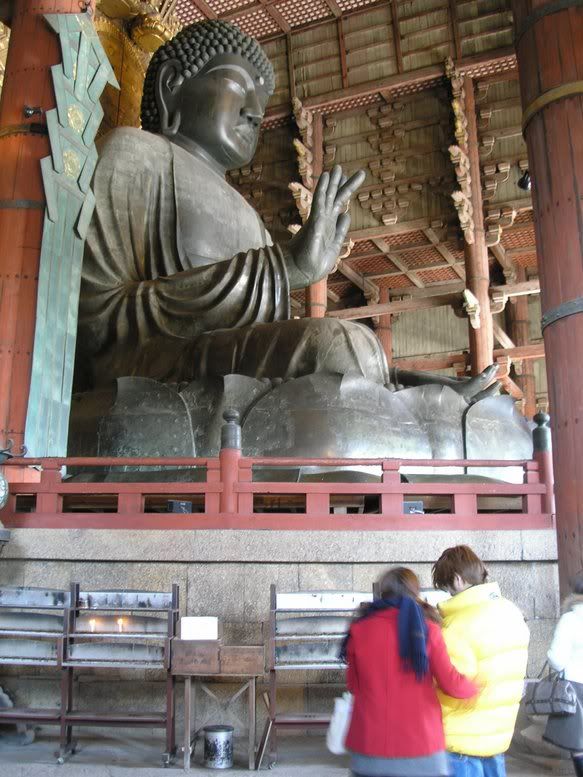 Daibutsu himself. Notice how close to the roof his head is. Think back to how high that roof is. Yikes! He is almost 15 meters tall, and he is sitting down right now.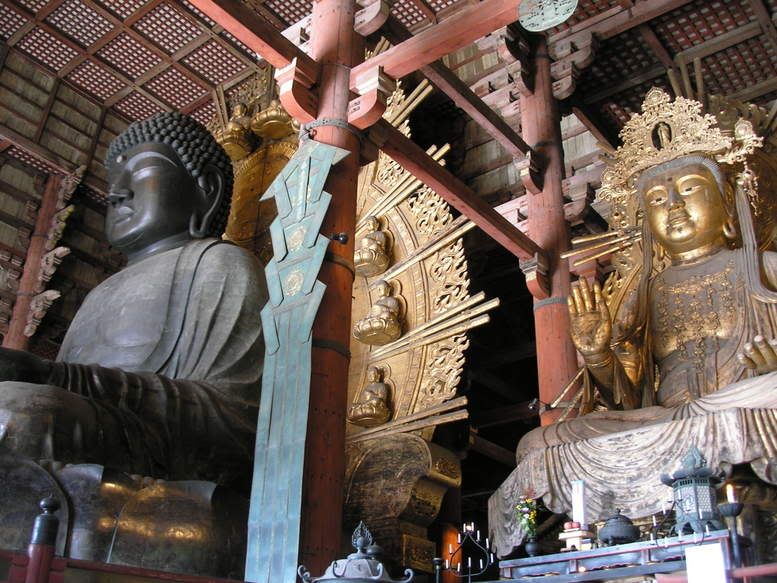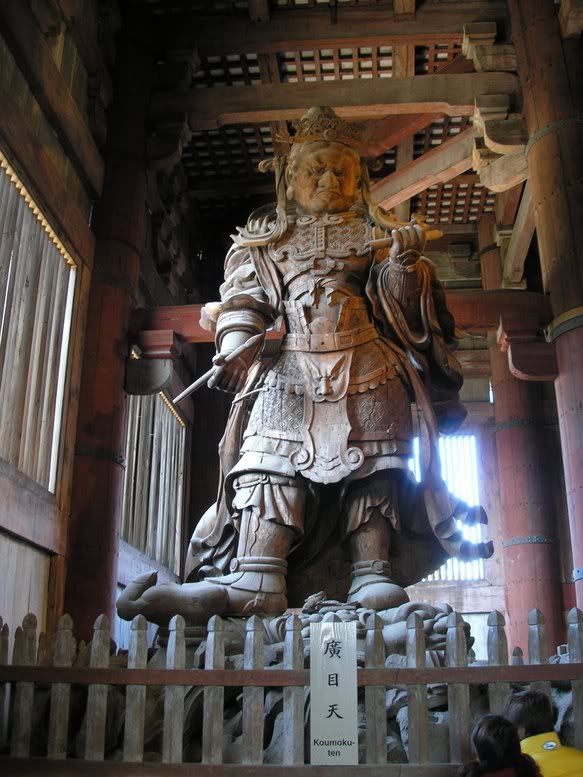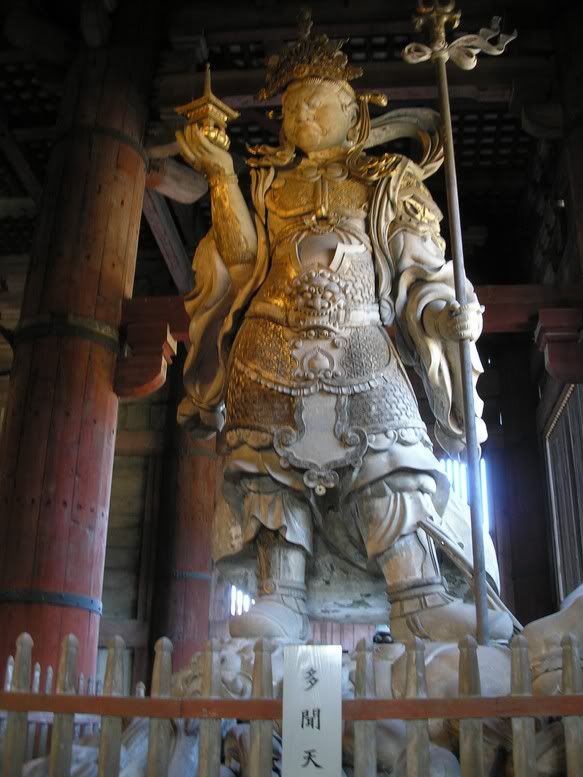 Two other statues, I don't know what they represent, but they do look pretty cool.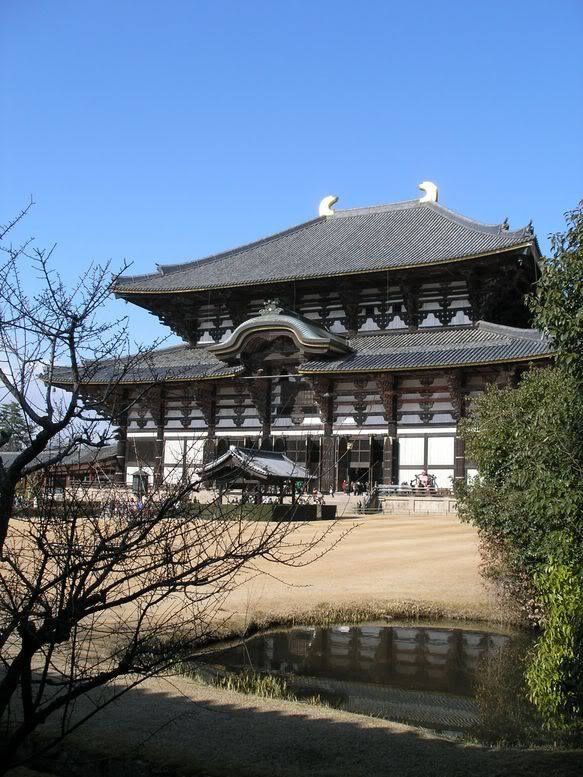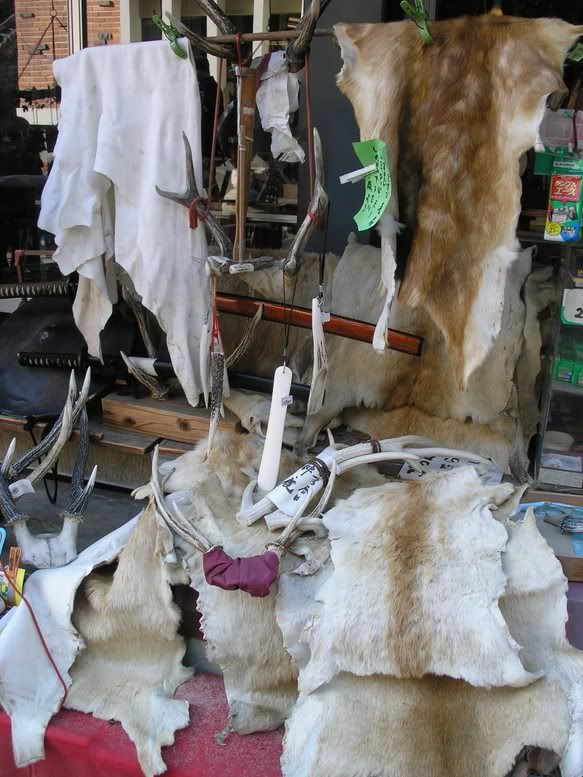 The ignoble fate of the Nara Deer.
Tourist Bait! The horror.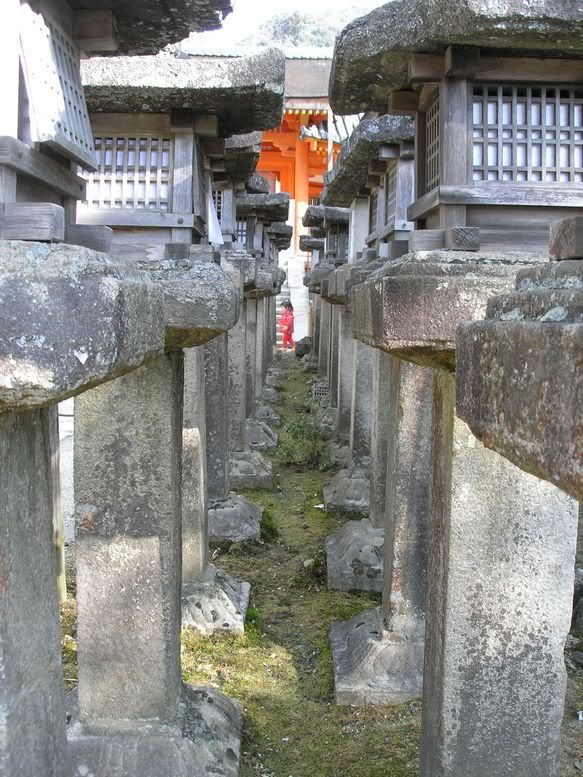 A line of lanterns at a nearby shrine.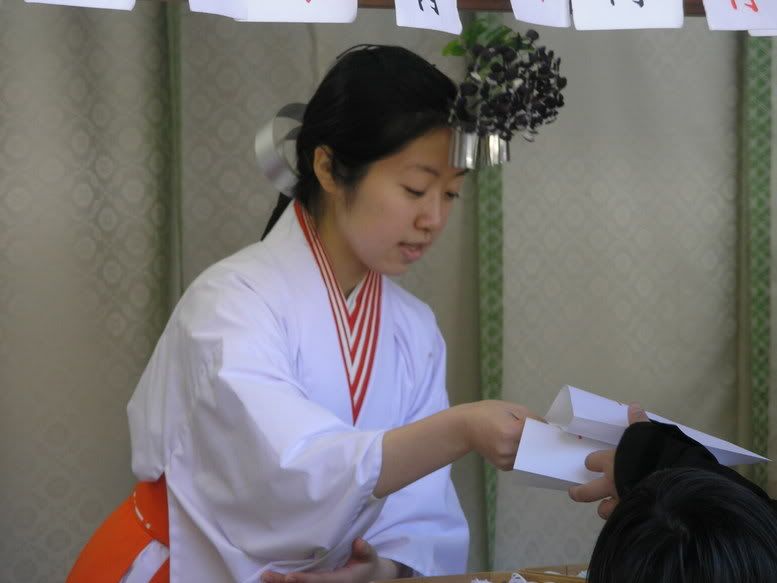 I have never seen a Miko wear crazy headgear like that, so I had to go into Paparazzi telephoto mode.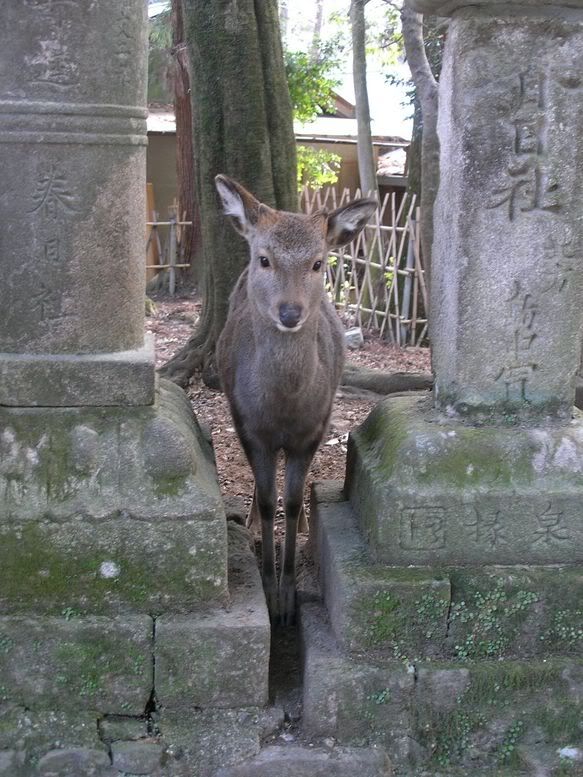 Awwwww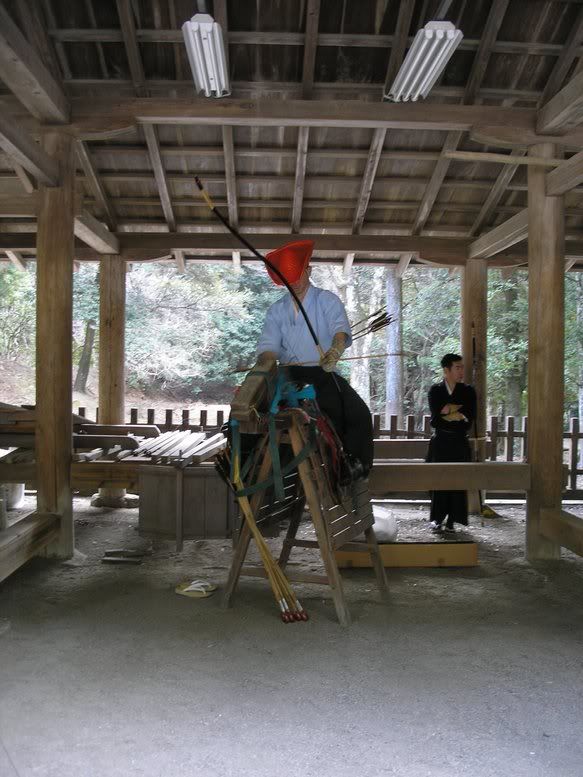 Horseback archery demonstration. The shrieks this guy made when he fired his bow were most impressive. I actually have a video of it from my camera, if anybody wants me to AIM transfer it or something.
A 5 story Pagoda. Misses out on being the tallest Pagoda, and thusly the tallest wooden building in Japan, to To-ji temple in Kyoto.