When I asked my Okazaki students what then knew about Kanazawa, for many of them the first reaction was to comment on the chilly winter weather. Well they were right. Kanazawa
is
cold. It snowed the whole first week I was here. Then the tempurature went a bit above freezing. So then it rained for a couple of days, melting most of the snow drifts. Well you will all be happy to hear that its back to snowing. I never saw weather like this in Denver, and as chilly as Aichi got, winter precipitation was rarely on the menu. Oh well, it *is* very pretty, so I can certainly live with it!
If Kanazawa is famous for two things, it is the weather and Kenrokuen. A couple of weeks ago I decided to venture out into the drifts and see for myself this "3rd most beautiful garden in Japan." I'll admit I was impressed. Its very large, indeed the area of gardens, shrines and castle remains gives Kanazawa a nicely sized green spot right in the middle of town. I hesitate to call it nature, as it is all so sculpted and modified that little in the area could be described as natural. But it is green, and growing, and beautiful. Well actually it wasn't all that green. It was more of a fluffy white color really. Still beautiful of course!
Kenrokuen is famous for the poles they use to protect the trees from Kanazawa's heavy snowfall. I have been told that the combination of the polls and the rope 'tents' with snow makes winter the best time to visit. I can understand that argument, but I have to wonder if the natural glory of spring, not to mention the finer weather and better footing, would not make that a much better season to visit. I will find out, as there is little to stop me from visiting in all four season, as often as I feel necessary.
Oyama shrine. Notice the interesting gate, a Dutch influenced design built in 1875.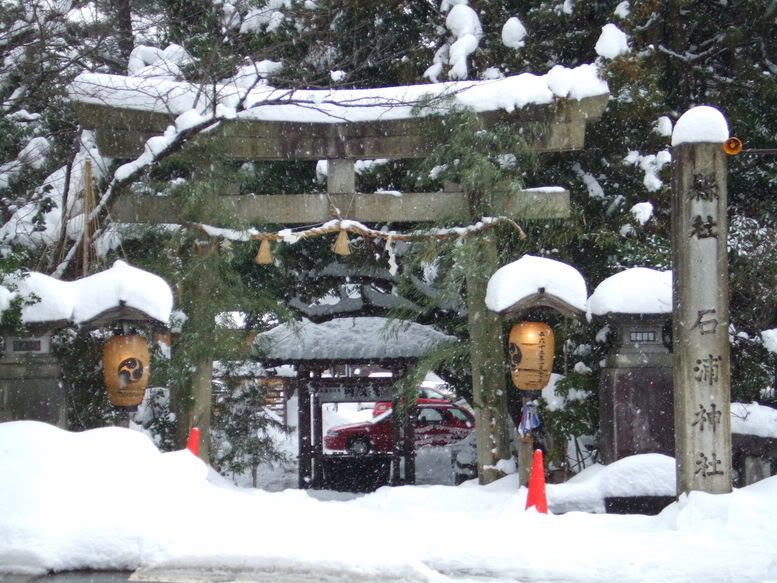 Shrine near Kenrokuen.
Gaggle of people near the lanteren that is the enduring symbol of the garden. It may be cold and snowy, but that doesn't stop the crowds!
Of course I had to get nice and close and get my own shot in.
The trees in their conical protection.